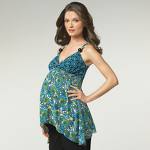 Maternity party dresses should be elegant and designed in a way to make you look smart. Being pregnant should not be an occasion to make you secluded in your home. In fact it should be time of which you should feel proud of and a party should be an occasion for you to look your best. Many fashion designers have designed and displayed maternity clothes which can be worn at the time of party. You should remember that you should feel relaxed in your outfit. It should not be too tight on any part of the body. Depending upon the weather conditions you should feel comfortable.
As a general rule there is no need for you to hide your belly but you should not wear something stitched in a way that it makes it look huge. Properly cut wrap dresses are preferred by pregnant women and even celebrities and models wear them. The dress should be designed with a lot of lycra and frill.
Some of the ideas for party dresses for pregnant women are:
Prefer to wear dresses with removable layers. During pregnancy the metabolic rate increases considerably and the body is converting food into energy at a faster pace. This may be a cause of hot flushes. If you have layered clothes you can remove some and when ever needed and can put them on.
Try to show off the parts of the body you are proud of. If your shoulders are great, wear sleeveless dresses. Similarly if you have beautiful legs you can show them off by wearing dresses which end at the knees.
If you are not too high you can go in for midi sized dresses. Avoid long dresses going to your feet.
While selecting the dresses for party wear, ensure to estimate the further increase your belly size during the remaining period of pregnancy. Even if you have reached the maximum anticipated size, buy dresses which are still loose to make you feel comfortable.
Dresses with lots of laces and properly selected and placed motifs and other decorative items like flowers will make you look more elegant.
When pregnant, swelling of your feet is inevitable. The hormonal changes in your body are a cause of this change. After delivery things will go back to the original size. You will need to invest in shoes. Do not go in for very expensive shoes matching with your dress. Go in for flat slip on shoes. These can be used by you subsequently after delivery in cold weather wearing thick socks.
Your bra should not be too tight or too loose. A very loose bra will make your figure look sick and worn out.
There should be no reason for you not to look glamorous. Selecting proper clothes with proper color and design will make you look better than even when you were not pregnant.