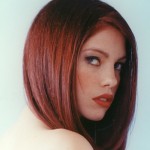 There were times when greying of hair was considered as a sign of maturity in a person. People used to start getting grey hair in forties and fifties. With change of time, bad eating habits and stress due to a number of factors, it is common to see children in twenties having gray hair.
To overcome this problem of premature greying, these young people start dyeing their hair. Large varieties of hair dyes are available in the market. Some are permanent, while others are semi permanent and temporary dyes. Generally permanent hair dyes are made from chemicals and harsh chemicals and can pose a serious threat to the health of the person who uses them. It is necessary to ascertain the contents of hair dye before purchasing them. Experts recommend to not to go in for permanent dyes and as far as possible use herbal dyes, which are safe for even pregnant women.
There are advantages of permanent hair dyes. Once used these have a longer lasting effect. As compared to them semi permanent or temporary hair dyes have effect for a shorter period and need to be applied again and again. Considering the safety angle it is better to take the trouble of reapplication. Another thing that needs to be kept in mind is that chemical dyes are not safe for pregnant women and should be avoided. Even if you use a dye when pregnant always use natural dyes. Henna dye is made of natural produce and is fully safe in all conditions.
Many countries have banned the manufacture of permanent and semi permanent dyes where the manufacturers could not produce the safety certificates. Before purchasing it is essential to read safety instructions. Never go in for purchase of imported dyes as these may be containing some harmful chemicals already banned in your country, and the content disclosure requirements at the place of manufacture may not be that strict.
There are instances to prove that women who had been using permanent dyes have developed bladder cancer due to the chemicals contained in them entering blood stream by penetrating through the scalp or hair follicles. Considering all that is mentioned above, it is always better to use natural dyes like henna . This will not only provide the best color to your hair, it is also a very good conditioner and moisturiser. This will help improve your hair quality to a great extent.