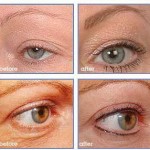 Micro-pigmentation is a form of permanent makeup which is very similar to tattooing. With permanent makeup on women would look fresh and radiant even in the morning when they wake up without any makeup. But micro pigmentation has its own drawbacks to too. So it's better to understand the pro and cons before getting it done.
In micro-pigmentation, pigments are applied under the skin to create permanent color. Then the pigments go in to dermis, the next layer of skin. General reasons for going in micro pigmentation are:
Women in sports and exercises would like to wear makeup but it would smudge due to sweat.
Those suffering from health problems like arthritis would it physically challenging to apply make up everyday.
Make up smudges on people with oily skin.
Permanent makeup is time saving. Example: people with thin eyebrows need not draw their brows with permanent makeup.
There may be many reasons to go in for permanent makeup but the underlying reason is the permanent feature of the makeup. It aimed at give natural-looking makeup enhancement. Generally, people would go for neutral colors and the shade that go with their skin. It's done mostly for permanent eyeliner, eyebrows, lip liner, lip color, and areola coloring. Those with skin discolorations benefit the most out of dermal micro pigmentation as the dyes can be used to match the skin tones and effectively cover up the discoloration. It takes about one and half hour and is done under local anesthesia or sedation. The cost ranges between $200 to $500. The usual side effects are moderate swelling and discomfort for a day and the healing time of the area is 10 days. Its don't require to stay in the hospital for long, soon after the micro pigmentation the patient can go home
Those who decide to go for micro pigmentation should do through research on it. Also, select a plastic surgeon that is certified by the board and probably referred by those happy with work done on them. These surgeons have pictures of their works. Going though them will give an idea on how well they do the makeup and what it involves.
Micro pigmentation could be carried on by hand or through machine and it discretion of the doctor as to what to choose.
It's always better to think a lot before going in for the treatment and the doctor as it would permanent fixture in the body and it's very hard to revert it.