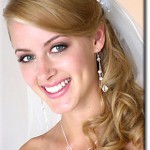 It is quite natural that every girl or woman aspires to have an extravagant wedding, full of decorations and the works. However, not always do the circumstances go in your favour, which is why planning takes on priority. You will often be told that organizing or preparing for a wedding, is not as easy as it sounds. There are innumerable tasks that need to be undertaken. However, for the bride in most cases, the burden is lessened to quite an extent with the family members taking charge of a few occasions.
Ranging from beauty treatment to trousseau selection, health watch to deciding upon the theme of the wedding, the bride is suddenly caught up in a whirlwind of celebration.
In an age where almost 60 per cent women are working, it is essential to prior most take a break from your professional obligations. Once done with the official protocol, you are now set to dive into the lap of indulgence.
To begin with, enroll yourself in a good gym. A healthy diet combined with a good workout can work wonders for body and also boost your confidence. The final and tiresome trousseau selection ought to show off the perfect bod. Let your man realise once again exactly why he fell for you in the first place!
A spa is definitely recommended. The various sessions would help you rejuvenate and revive physically, spiritually and mentally. Little bit of pampering never did anyone harm!
Having done with relaxation, you'll need to channelize your energies towards selecting a trousseau, which can be a gruelling session. There are quite a few bridal boutiques these days offering stylist assistance. However, make sure that you and your stylist both are at ease with each other. Discuss your dream dress with him/her and communicate your preferences.
Once in tandem with your stylist, show him/her the attire you would be wearing. It will not only make things easy for the person, but will get you exactly what you aspired for. Employing an expensive stylist only to have him/her refute your suggestions can be frustrating. Also it is recommended that you have a few trial runs to make yourself familiar with the fabric and the image.
Ensure that all your appointments are booked well in advance. Chances are that a few sessions might overlap, but it is up to your comfort and planning skill to look into these details. Be particular about the kind of treatment enrolled for. Not all treatments suit everyone, thus be extra vigilant.
Manicure, pedicure and waxing sessions can be slotted for a date close to the D-day.
Once done with the trial sessions and shopping, make sure you relax with your near-dear ones. Often we take them for granted. So, go ahead and have a blast with them. Make them feel special by reciprocating their affection in whatever way possible. After all it is they who will make your special day extra special with their presence.