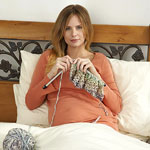 Expecting mothers are sometimes advised bed rest if there are some complications like spotting and continuous pain in the stomach region. Bed rest has to be adhered to for the health of the baby and the mother, but passing the time becomes a problem. Women are usually busy both at home and at their work place, so this enforced rest leaves them bored and depressed.
Usually trips to the bathroom are allowed and so are sitting up for part of the time. Choose a room which is close to a toilet as this will reduce unnecessary movement. If there is no bed in that room then arrange for a comfortable couch there. Pull the curtains aside so that you can watch the people in the street or the flowers in the garden. You could arrange for a few crumbs and a bowl of water in the garden. Birds will come for these and keep you entertained.
Book lovers could become a member of a library and a family member deputed to fetch interesting books. You can spend a lot of time engrossed in reading. Keep pillows and cushions around you so that you are comfortably propped up.
If you are interested in knitting, embroidery and sewing then you have an opportunity to make something useful and pretty. You can make garments for your baby or gift tablecloths or other linen to your family. You could learn appliqué work or macramé from books and while away your time.
Watching TV is a good source of entertainment and can help to fill up your hours. If you are computer savvy and have an internet connection, then you can surf different websites or chat with your friends. You could sift through names for your child and also gather knowledge about child care. You could look at various countries' websites and learn about the places of interest there and their culture.
Gaming consoles are available now and can be plugged into the TV or computer. You can keep yourself occupied playing games. You can also play chess and scrabble etc. with the computer as opponent. Many games can be downloaded free from the internet so make use of that facility.
You could organise your photographs both in the paper form and those which you have stored on the computer. Many pleasant memories will be rekindled making it worth your while. Keep your phone near you so that you do not have to get up to make or answer a call. You could talk to any relative or friend when they are free.
Keep plenty of snacks and water by your side to keep your movement restricted. Things should be within your reach when you are hungry or thirsty. Time will fly when you are enjoying your favourite activities.