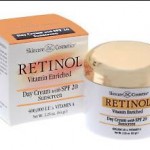 Aging signs like wrinkles and laugh lines are the unwelcomed guests. But they do appear with age. To counter these are plenty of products available in the markets. Retinol is an ingredient in these products which aims to treat and prevent appearance of wrinkles. Retinol is a topical form of antioxidant Vitamin A which has properties for diminishing the aging signs on the skin.
Retinol has a small molecular structure which enables it to penetrate deep into the skin and stimulate the collagen and elastin production. This results in creating firmer and smoother skin. It also helps in increasing the cell turnover and exfoliation by stimulating cell production and shedding of dead skin cells. This enables the new healthy cells to appear there by creating soft smooth skin with smaller pores and reducing signs of sun – damage like age spots and blotchiness.
As retinol yields good results, it's found a place in all kinds of cosmetics like face creams, hair serums, nail polish etc.
First aging signs are seen around the eyes and lips as the skin is very delicate and thin in these areas and the regular facial expressions are enough to cause wrinkles. So application of retinol based eye cream and lip treatments are essential for these areas. Using normal moisturizers around the eyes would cause stinging and burning sensation as they are very powerful. Eye creams contain moisturizing and emollients ingredients which are gentle on the skin.
Retinol Eye Skin Treatment Cream
Retinol eye creams can be purchased form drugstores, cosmetic retails, beauty counters and online too. The price ranges from $12 to $65. Some popular creams are L'Oreal Dermo-Expertise RevitaLift Eye, RoC Retinol Actif Pure Eye Contour Cream, H20+ Line Defense Retinol Eye Complex, Lancome Re-Surface Eye, MD Forte Skin Rejuvenation Eye Cream and DDF Retinol Eye Renewal.
Spa Sciences Collagen Retinol Eye Patch Therapy offers transdermal patches for placing under the eyes for 30 to 40 minutes to deliver retinol in large quantities for intensive treatments.
Some products like Estee Lauder's Diminish Anti-Wrinkle Retinol Treatment, Avon's Anew Line Eliminator Neo-Retinol Line Plumper SPF 15 are suitable for eyes and lips. They are packaged in such a way that they can be applied easily on the eyes and lips as well.
Retinol Lips Treatment
Retinol's collagen boosting properties are utilized in lip treatment enhancers. These products make the lip smooth, plumper and enhance the color. Their price ranges would be $20 to $45. The popular brands are Freeze 24-7 Plump Lips Lip Plumper, Physicians Complex Lip Enhancer and Poutrageous.
Avon's Beyond Color range of cosmetics offers lots of products with retinol in it. They offer a colorful mix of lip enhancers which include Plumping Lip Conditioner, Plumping Lip Liner, Plumping Lipstick and Plumping Lip Gloss.
These are anti ageing lip products which make the lips appear pulpier and healthier. They aim to smooth the lips so that the color wouldn't get stuck in the creases. They come in number of attractive colors and shades and are reasonably priced too.