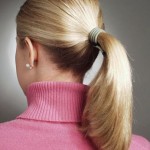 Having a trendy hair style is an important part of fashion. Women want to look good and for this object they are ready to spend time and money. Fashion does not remain static but changes with time, the trend setters being models of repute who find place on the covers of fashion or film magazines.
While deciding about the hairstyle you would like to have it is essential to be aware of the latest trend but you should also keep in mind about the style that suits you the best. The selection of your hair style should depend upon the shape of your face, your physical build, your height and above all the nature and length of your hair. You may have thick hair or thin hair, or long hair or short hair having different texture.
The decision depends upon the above mentioned factors, the choice being yours. If you look in the mirror, you will have some idea of what will or will not suit you. Being aware, you will be in a position to scroll through different hairstyles available in books or on the net and arrive at a decision.
If you want that your hair should look fluffed up, you need a large round brush. Starting with wet hair, use a drier set at low heat to dry the hair, lifting them from roots. Rollers can be used for extra volume. Finish with applying hairspray to keep the hair intact for the day.
For a sleek look, wet hair and divide it into different sections. Blow-dry them till they are slightly damp. Blow the hair away from the scalp. For this, you may use a brush or a comb with large teeth. Once done apply hair gel. Then you can curl or straighten the hair as per your desire.
If curly hair suits you, buy a curler with provision for different temperature setting. Curl wet hair around it, set it at mild heat, and let the hair dry. Remove the gadget and you will find nice curls on your hair.
Similarly, for straight hair you will need a hair straightening iron. Always remember not to heat the hair too much as this will damage it.
It is advisable to visit your hair stylist once in six months. You can discuss with him about the gadgets needed to style the hair and keep them in good condition. Proper cutting and fixing instruments will help in achieving better results. Observe his movements and learn how he makes you look stylish and beautiful by blowing your hair from side to side and giving them curls at the appropriate places.
To sum up, the style should be simple and appealing. It should match your body structure. Hundreds of tips will not be helpful if they do not suit you.