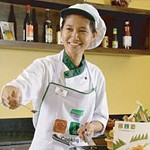 We all know that we all are skilled in one way or the other. Many of us utilize our abilities and some of us waste the talent. Humans will be talented in various zones. Some will be talented in singing, some will be talented in sports, and some will be talented in dancing and so on. We have to utilize our skills without any shyness and without caring, what it is.
Many of us are talented in cooking and we know that many of the people make money by taking classes. So why can't we take classes on cooking. If you are a very good cook and if you are very proficient in the coups, you can confidently start cooking classes for your neighbors. If you are not a professional cook then do not worry, you can take classes but try to make it a great course, just hold it inside your neighborhood.
Taking cooking classes for your neighbors have many merits. Because it will get you some money, it will give you some fame and it will be a nice way of entertainment. You will have no lose in this industry, because it does not need a huge amount of money to start with. Today, many people who do not know even the basics of cooking are searching for a cooking teacher. This list mainly includes kids, newly married women and even men.
To start taking cooking classes for your neighbors first you have to make sure that you will get enough students who are looking for teachers in cooking. If you are sure, you will get students then you can start preparations for the beginning the classes. Select a suitable area, arrange the area, buy the materials required, fix the time, select the fee for the classes, and give some advertisements. It is better to give advertisements without the help of Medias.
Starting cooking classes will not cause you anything especially when it is for your neighbors and friends. If you wish that if you do not want to make it a profession, then you could take classes without fees as well.