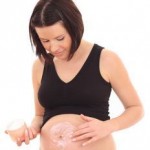 One of the problems that so many women face during pregnancy and after birth, is the stretch marks. You should start preventions during pregnancy even before appearing the stretches on the skin, as everybody knows that prevention is always better than cure. How their appearance can be avoided while you are pregnant and the solutions to remove them are not a very hard task, if the preventive actions are taken earlier.
If you decide to become a mother in the near future be careful. You should know that not all women have troubles in terms of stretch marks. These marks usually occur in mid-pregnancy mostly in the areas like stomach, abdomen and breasts and this is caused by the rupture of elastic fibers in the skin, as a result of insufficient collagen. Collagen gives skin its elasticity and prevents from wrinkles.
In the early stages of pregnancy you should get alert and start preventions. Or you feel in the middle time after 3rd month, stretch marks are about to be appeared, you should not be panic but begin care of your skin. They may be white or brown color but not to worry. Use your powerful moisturizing oil or cream with vitamins A and E, which help recovering skin elasticity and help regeneration of elastic fibers.
What you need to know is that there is no miraculous cosmetic or product so far that will totally remove or get rid of stretch marks. These products at most can only help to reduce its occurrence.
Genetic or hormonal imbalances contribute to appear stretch marks on skin in pregnancy or even to anyone else. Especially in pregnancy, your body is especially facing changes in hormone levels, is a time that increases the possibility of such damages. To prevent them, you need to massage with olive oil or moisturizing cream at the areas prone to stretch marks, the consume liquids (more than 2 liters per day) additionally to avoid dehydration, take a healthy diet based on vegetables and fruits. Don't always sit at a place but have proper movement, some walk and light yoga.
In the second half of pregnancy, it is recommended to do light exercises with some yoga and meditation. Exercise for pregnant women, morning healthy walk are the best possible movements for mother and baby both.
After birth birth of a healthy baby, you're a happy mother, but still the pregnancy traces on your body. There is nothing wrong, these stretch marks begin to fade about a half year after birth, but it is not possible to make them vanish with any cosmetics. In some women, this skin improvement may begin after delay up to one year.