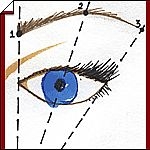 Eye brows are the most important aspect of your face so care should be taken to make sure that they look good all the while. Many a time when you go to a new place, where you have no clue about the beauty parlor and things pertaining to the same, you end up spoiling your eyebrows by getting them done by an amateur. This could happen to anyone so there is nothing to worry. All you need to do is remember the fact that you have just one pair of eyebrows and a whole face to show the world. In case they get spoilt you just have to get the right cure for them to grow and sit back and relax like the rest.
The first thing that matters in case of eyebrows is the growth aspect which in several cases is a problem. Many a time there is no proper shape of the eyebrows due to the growth. So make sure that the growth of your eyebrows is good enough. Apply castor oil every night to help make the hair strands of your eyebrows better and lustrous.
There is one thing that always makes your face look nice and clean. If your eyebrows are made well, which means, if their shape is good enough they will automatically help your face look really attractive. There are many kinds of face cuts of which some are long while the other are round or flat depending upon where the person comes from. Make sure that your eye brows are according to your face cut. It is always imperative for your eye brows to match your face cut for the only reason that the final look isn't hampered at all. If your face is round and your eyebrows aren't shaped accordingly, there is no way you would look good.
The best way to shape your eyebrows is to first analyze your facial cut or the shape of your face. If you reckon the shape is round, make sure that your eyebrows are shaped as per the same so as to help give your face a better look. If both shapes don't match there is no way you could have the look you always wanted.
Stick to one parlor as far as possible for if you keep changing the same you might end up spoiling the shape of your eyebrows. "Too many cooks spoil the broth" holds true in this respect for the reason that when too many people work up on your face and eyebrows, you might end up ruining the shape at the end of the day. So make it a point to patronize only one or maximum two parlors so that your shape and face, both don't get hampered at the end of the day.
Tell your beautician to go along the brow and see where the extra hair strands are growing so that she tweezes out only what is not needed. This way too you will be able to get the shape that you always wanted.