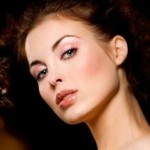 Makeup ideas for brunettes are not very different but specific. As they are god gifted with dark hair, eye and skin color, they don't need to put much makeup on it. Brunettes can look great with very little makeup. Following are the best tips for brunette girls make up:
1. There are certain looks that a brunette can get which a fair cannot. The dark haired and dark skinned girls can give the sexy smoky look. They look great on evenings wearing a mix of black and gray eyeliner in little extra than recommended amount with a little silver shimmer. A light haired girl would look scary sporting this look.
2. Brunettes don't need to wear much too much makeup. They can pass off with as little make up as needed during the day unless working in showbiz field. Brunettes with fair skin can wear a light brown with a little of peach or pink and/or golden shimmer as skin tones to just brighten up the face. A slim brown line of eyeliner on top of the eye lid and a thin coat of mascara, coral pink blush and clear lip gloss would be sufficient.
3. If in a hurry just a lipstick would do. A medium pink or coral shade on the cheeks will brighten the eyes.
4. To get all guys to give a look here is a sure shot formula. Icy bronzes, gold, pink or any other light color on the lips would make it fleshy and will be a contrast to the hair color. A dark shade on the eye lids that goes with the upper half of the outfit and a heavy coat of mascara will give a wide eyed portrait like innocent face.
5. Those with dark hair would look great with dark or tanned skin. So those who want this combination should choose to go to sunless tanners and bronzers for an instantaneous change of look. This is lot better than speeding loads of hours under the sun.
6. Sometimes it better to look natural and leave the brunette and pale skin combination as it's. This too looks good.
7. Dark hair and red lips are a good combination. But a bright red lipstick in the day would too much, instead a gloss could be put on to give a sheerer and juicy effect.
8. During the day best would be to wear a ruby red lip instead of bright red with a matte wine finish. Also the eye makeup should be subtle if the hair is on the darker side.
9. Brown eye shadow looks great with all shades of hair and eye color. Its exceptionally good combination to wear brown eye shadow when hair is brunette and the eyes are blue.
10. Those with brown hair can get wear and brown eyes can wear any shade of eye shadow even the flamboyant color. They look hot and stand out in the crowd.