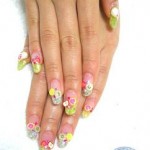 When nails are decorated, they look fabulous. But it's expensive to them at salon very often. Here are few tips to decorate the nails at home without much of expenditure.
Designs on the nail: At least two coats of nail polished should be applied before designing it. A pin or and other small pointy object could be used to make small dots on the nail. If someone else could do it would all the better. Glitter glue could be used to create designs as well. But the nails should be gently fanned or blow dryer should be used to dry them quickly.
Other option to use any other color other than base color to draw designs like vertical line in the centre of the nail or side to side or horizontal ones etc. Fine lines and wavy line at different angles could be done too. For these a spare nail polish brush should be cleaned by dipping in nail polish remover and the bristles trimmed until the desired fineness is obtained.
Body jewels could be used to decorate the fingernails art. When covered with nail polish, they stay longer on the nails. Sticker could be stuck on the nails too. People can make their own stickers by taking a print out from the printer of their favorite designs on a clear sticker paper. Then they could be stuck on to the nails.
Glue on nails with designs could be used too. But these nails should be paint and dried before affixing them. Artificial nails offer lots of scope of creating unique designs. For example, the nails could be painted with white glue, and then glitters sprinkled on them. After they dry, heavy coat of nail polish could be painted.
Even a decoupage is possible on the artificial nails. The picture from newspapers or magazines could be cut to the size of the finger nails and then decoupage glue should be applied on the nails. The picture should be placed on the nails and the decoupage glue should be applied once more. There could be same picture or different ones for each nail. Also even piece of cloth could be used instead of paper. But the fabric should not unravel.
Metallic paints which are available in all arts and crafts shops could be used to paint fingernails art and design. They could be used to enhance the base coat or used just for designing.  These metallic paints are very much like nail polish and dry quickly.
Initially, the perfection may set in. But with repeated trials, new ideas would come up and so will perfection. One day, it may also instigate to set up a nail salon.