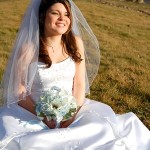 Marriages are made in heaven, but a touch of glam is added on earth. One of the key factors in that quotient is that of your choice of "look". Well, a typical wedding would boast of heavy make-up, ornate dresses and flamboyant jewelery, but is all of that really required?
The present age and changing wedding mantra clearly is 'sophistication with a classic touch'. Subtlety speaks a lot for itself. With designers themselves opting for a camouflaged approach, it might as well be the right opportunity for the bride and groom to sieve through the vintage creations and opt for a subdued recreation.
Clearly the colours, white, black and shades of pastels are the colours for the occasion, wherein white quintessentially is the bride's colour. However, the ladies in question, over the past few years have shifted focus on blue, red, green and lilac.
Despite the classic approach, one should combine and accommodate a few latest fashion must haves. A collection of basics such as accessories and footwear would definitely make your day a memorable one.
It thus becomes mandatory for the bride to glance through various magazines, consult a few stylists and recce a few bridal boutiques. This not only would give you an idea of what you would want for the memorable day, but also help you get that perfect look.
Having initiated the look for the day, decide upon the dress. Whether it's a traditional or contemporary wear, make sure the fabric suits your body and is comfortable. The colour combination should slightly be towards the brighter side, since you would the centre of attraction.
The accessories need to complement your dress and should enhance the overall look, thus try sticking to the classic designs. Only if you are experimental and confident about your look should you indulge in contemporary accessories. An individual preference could be made from diamond, gold or silver, but keep in mind that, overt display of ornaments would have you looking straight out of a shop display!
Invest in a good and comfortable pair of footwear. They could either be platforms, stilettoes or wedges depending upon personal choice. Footwear is an integral part of your trousseau, since you will perpetually be on your toes receiving wishes. Therefore, choose wisely.
A simple and elegant hairdo not only would keep your crown stress-free, but also make things a little less complicated. It is advisable to ask your stylist to try a few styles prior to zeroing on the final creation.
In case you intend having a handbag during the ceremony, it is recommended to have a small clutch bag. A major attraction, the sequined work or handcrafted clutches these days are a rage. These accommodate small things such as a lipstick, cell phone or a compact and are bang on with style statement.
A wedding is an affair that you cherish for a lifetime, therefore it only makes sense to plan it keeping in mind the latest trends and making the necessary changes to have a "happily ever after" memory.