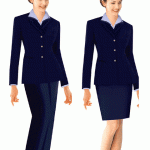 You've been lucky to land up with a corporate job. You really want to make a good first impression. The best way of ensuring this is to get your attire right from the very onset. While T shirts and jeans are not an option, high heels and pantyhose are no longer a necessity for today's professional women's wardrobe.
The best place to start in revamping your wardrobe is shoes. An office set up requires moving about a lot, getting up a number of times and sitting behind a desk all day long. Therefore a pair of well designed, good looking, comfortable shoes is the best choice for office foot wear. Both heels and flats look equally good. Shoes with leather upper are the most comfortable, however, vegans have a large range of man made materials to choose from.
Apart from the style, one must consider some additional factors like colour, ease of cleaning etc. a pair of black shoes are a must for any wardrobe.
Socks form an equally important part of the entire dress. Frilly socks, exercise socks, tight pair of socks should be done away with. A pantyhose, knee length nylon socks or thin cotton socks look good in an office environment. One should wear fresh and clean socks daily, preferably of a dark shade. Flesh coloured socks are also acceptable.
While choosing a bottom for your office clothing, you must give priority to comfort. Knee length skirts are ideal. A shorter length of skirts should wait till one has spent a considerable time in the office. For those uncomfortable with skirts, a pair of well cut trousers are a good option.
Contemporary women's professional wardrobe must include a few pairs of smart slacks in colours like black, navy, pinstriped and maybe even khaki. The slacks can be mixed and matched with a number of smart fitting tops. These slacks should be well cut and not too tight.
Tops and blouses form the most important part of the office attire. These are first to be noticed, and sometimes, the only thing a person will notice. You can choose from a wide array of blouses and sweaters according to your personal preferences and tastes. One must make sure that these blouses must not be too tight and revealing. Sleeveless tops, low cut necklines may not be considered appropriate in many offices.
To begin with, three to four pair of slacks, about eight blouses thrown together with a couple of comfortable yet smart pairs of shoes would befit  a young professional in making. You can, with time, expand your wardrobe and include pieces like suits, pantyhose etc.
Finally, it is important that you pay attention to tags of clothes you buy. Clothes which can only be dry cleaned would burn a hole in your pockets. Therefore the best choice would be clothes which can be hand washed or machine washed.