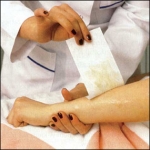 Ladies often visit a beauty parlor for different beauty aids. They use the services of the expert at the parlour for removal of hair from parts of body by waxing process. This is often quite costly as these people charge heavy amount for the process which can be easily done at home with minimum cost.
Many home waxing kits are available at the medicine stores and also at the shops selling beauty aids. One should remember that these are not easy to use as wax dispensers provided with the kit gets clogged and unfit to use. To avoid this, and to further reduce the cost, the following method can be conveniently used at home for effective results. One should remember that practice will make one perfect and the desired results may not be achieved at the first trial. Before first home trial, one may visit the professional once to improve the idea of the process.
Waxing Kit: To start with this process of waxing at home you need wax which can be purchased from the nearby pharmacy or online pharmaceutical suppliers, flat applicator to apply the wax, gauze pads and mineral oil. The oil is to be applied after the waxing process to soothe effected parts and also to remove excessive wax from body and hands. A microwave proof container with  opening and a cover is also needed to keep and melt the wax.
How to do wax hair removal ?
Once everything is ready, put the wax in microwave proof container and put it in microwave so the wax melts. Let it cool to the temperature that it can be applied on body as a smooth layer. Spread it evenly with the help of flat applicator. It should be remembered that excessive wax can cause irritation and lesser wax will not give the desired results. The wax should be so spread that it appears to have been applied with a paint brush.
Once the wax has been applied cover it with gauze. Ensure that the gauze is put on the wax when warm. Press the gauze evenly on the wax so that it sticks properly and the whole area is covered. Once done take a deep breath and pull off the gauze in one stroke, then see the results. Remember to pull in the direction opposite to that of the growth of hair. Depending upon the quantum and thickness of hair you may repeat the process. Use tweezers to remove any leftover hair.  Immediately apply mineral oil. This will reduce swelling if any, and also reduce irritation caused on skin due to removal.
Store the material properly covered and at a cool dry place for next time use. Once perfection is achieved the cost of going to beautician will be saved.