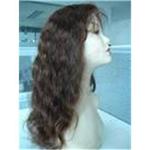 A person is judged by his appearance. You first notice the face, and hair forms a part of that. Absence of hair is thus immediately noticed. Thinning of hair also takes away a lot from a person's look. One of the solutions for this is a lace wig. This is nothing new and has been around for a long time.
As is apparent from the name, a lace wig is made by using a piece of lace which fits the head snugly. Then each hair is attached to it carefully with the help of a special needle. A little lace near the edges is left free. Once the wig is completed, it is glued on to the scalp with an adhesive at the edges in such a way that the lace is not visible. Even on close observation, no one can make out that a wig has been used. It seems that natural hair is growing out of the scalp.
Since so much effort goes into making the wig, it is an expensive purchase. It takes about two days to make a single lace wig. Many varieties are available such as wigs made from synthetic hair, blended hair and human hair. The wigs made from synthetic hair are more affordable while the price of those made of human hair goes up to 4000 dollars. They are available in many colors like blonde, black, brown and styles like long, short, curly or straight to suit every person.
Many people want to wear these natural looking wigs so that they can go about their normal routine without being detected. More and more are being manufactured now to meet this demand. Consequently, the cost has come down.
Some women wear them to try out different hairstyles without damaging their own hair by color and styling products. Some may have lost their hair due to chemotherapy, radiation or similar medical treatment. In medical terms, these wigs are called cranial prosthesis. These people opt for lace wigs to look normal and go ahead with their lives.
Many public figures like movie stars wear them, as they have to be on top of the fashion world and look glamorous. With lace wigs, they can change their hairstyle and color often without much trouble. Lace wigs are available for men as well. They are called toupee. Men tend to bald as they age, so in order to look youthful with a full head of hair, they wear these wigs.
For whatever reason these wigs are used, they enhance the appearance of the wearer.