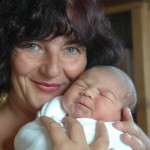 A doula is a person who is trained to help the mother after child birth. She has good knowledge of baby care after birth. Also, she helps midwife during childbirth, labour or delivery process. A doula is professionally trained for how to undertake post delivery precautions. Mostly they are educated ladies having full knowledge of various stages through which a woman passes for child birth. She is fully capable to advise you on all aspects and clear your apprehensions about the every stage of pregnancy.
When a lady gets pregnant for the first time and does not have the assistance of some older members of family who can clear her doubts, various apprehensions surface about some existent or nonexistent issues. With vast resources of information available now in books and over the internet it has become easy to clear them. However where ever possible, for safe and happy pregnancy assistance of doula can be taken.
Before you decide to take her assistance it is essential that the matter should be properly discussed with your husband. He is the person who will bear the cost and will be faced the existence of a stranger in the home. Once decided you can start search in yellow pages or on the net. Certain doulas have formed associations at different places, and they can be contacted. Before finalising it may be necessary to interview more than one prospective candidate.
While interviewing or discussing with the postpartum doula, be clear of what you expect from her. When you want her to join you, and be very clear about the cost involved and the time she will spend with you. Once it is decided to hire her, try to be friendly with her and ask her about the minutest doubts you have about pregnancy and child birth. Due to her training and previous experience she will be able to clear your doubts and apprehensions. This way you will enjoy your pregnancy and child birth.
Once the child is born you can continue to employ her for another month or so. She will be able to teach you about breast feeding the child. She will also be able to provide training to you and your husband as to how to take care of the child, how to keep your child clean and give bath to the child and how to pick her up, and much more. By the time she is ready to part you will be trained to look after the child independently.