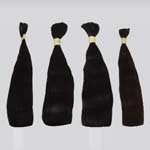 Hair extensions are used to add fullness or length to one's natural hair. When you decide to buy a hair extension chose clip on ones as they are the easiest to attach and remove. They can first be styled and then attached saving your hair being subjected to styling products and various gadgets. Remy extensions using human hair are becoming the most popular choice.
In cheaper hair extensions, which are made of natural hair, the hair is treated with acid to make it uniform. This damages the hair cuticles, leaving the dull. Artificial means like treatment with silicon are employed to create shine and smoothen the hair. This layer gets removed after a couple of washes and the hair is left tangled and mousy.
Hair extensions which use human hair exclusively are much better. The cuticle should be left intact so that the appearance of the hair is totally natural. Since it is not chemically treated it will be much stronger and last a longer time. It will not tangle easily and will be more manageable. For good natural hair extensions, hair of more than one person is used so that all the hair is of uniform length. It is therefore more expensive.
These hair extensions can be used just like your own hair. They can be coloured, straightened and curled by using curling irons. Since it is natural hair, it will be of the same texture as your hair and will be indistinguishable. Synthetic hair cannot exactly replicate the same look as human hair and can be detected. It is difficult to style and color synthetic hair along with your own hair to make it match well.
Human hair extensions need proper care and need to be looked after well in order to serve you better. Take the help of a professional hair dresser to color them. They should be washed when dirt collects on them with shampoo and conditioned too. If you use more than one piece, wash each piece separately. Dry them slightly and then use a wide tooth comb to detangle them.
If you style them often and use hot curling irons or straightness, use a leave in conditioner on them occasionally. This will nourish the hair strands. Comply with the guidelines which come with the hair extensions. Human hair extensions are the healthiest type of hair extensions that you can buy. A lot of care goes into sourcing and treating the hair before it reaches you. They are available as pony tails, half wigs, lace front wigs and clip on extensions. You can safely use them to enhance your appearance.